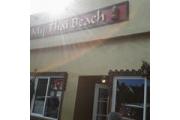 Hours:
Mon-Sun:
11:30 am - 10:00 pm
/
About My Thai Beach
My Thai Beach in Capitola Village of Santa Cruz County serves delicious Thai cuisine with an ocean view.
We serve authentic gourmet Thai cuisine for both Santa Cruz locals and Central Coast visitors. Our delicious Thai menu is made from only the finest and freshest ingredients that will excite your taste buds and satisfy your hunger while you enjoy the spectacular restaurant ambiance inspired by Thailand.

We have a collection of Thai culture and history pieces, giving our customers a unique dining experience commemorating the food, art, recipes, apparel and music of Thailand. A favorite hang out for surfers, locals and tourists.