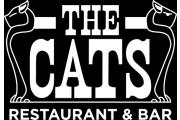 Edit
The Cats Restaurant & Bar
17533 Santa Cruz Hwy
, Los Gatos
, CA
95033
|
Directions
Hours:
Tue-Thu:
4:00 pm - 10:00 pm
/
Fri, Sat:
4:00 pm - 11:00 pm
/
Sun:
4:00 pm - 9:00 pm
/
About The Cats Restaurant & Bar
The Cats Restaurant & Bar is a casual dining and drinking establishment, known for its mouth-watering BBQ and convivial atmosphere. Stop by on your commute home from work or on your way to or from the beach. You'll be glad that you did!
Featuring the ???Baron of BBQ??? Paul Kirk???s famous dry rub, The Cats Restaurant & Bar serves up the best BBQ in the Bay Area!

Established in 1896, and originally a stop on the old stage line, The Cats roadhouse served as a weigh station for horse-drawn lumber wagons on their way to San Jose, as well as a rowdy social club for local residents. During the Prohibition era of the 1920s and ???30s, The Cats was notorious as a speakeasy and bordello. In the ???40s and ???50s, The Cats building housed a realty office, a gun shop and a sporting goods store. The restaurant and tavern were re-established in 1967, and today The Cats is one of the last remaining roadhouses in the United States.

A welcoming place to meet friends both old and new, the legacy of The Cats as a favorite destination for locals and travelers alike continues. Join us!