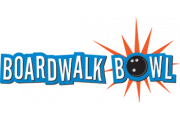 Hours:
Mon, Tue:
9:00 am - 12:00 am
/
Mon, Tue, Wed-Thu, Sun:
9:00 am - 11:00 pm
/
Fri, Sat:
9:00 am - 1:00 am
/
About Boardwalk Bowl
Next to the Santa Cruz Beach Boardwalk, the Boardwalk Bowl is a state-of-the-art bowling facility, arcade, restaurant, and lounge.
Articles mentioning Boardwalk Bowl
Sure, Labor Day is over and we are back to the daily grind. But, this is Santa Cruz, where no one really works, and it is freaking HOT outside. One hundred degree weather? Really? So, get indoors and see some amazing live shows. This week we have a mix of nationally touring and talented local acts…

From the best bands to the best bars, our staff's picks for the best in Santa Cruz County nightlife.

Our readers pick the best music and nightlife in Santa Cruz County.
Boardwalk Bowl Videos