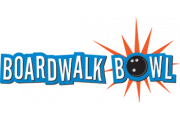 Hours:
Mon, Tue:
9:00 am - 12:00 am
/
Mon, Tue, Wed-Thu, Sun:
9:00 am - 11:00 pm
/
Fri, Sat:
9:00 am - 1:00 am
/
About Boardwalk Bowl
Next to the Santa Cruz Beach Boardwalk, the Boardwalk Bowl is a state-of-the-art bowling facility, arcade, restaurant, and lounge.
In the pro-shop, staffed by IBPSIA Certified Professionals, you can find everything from balls to bags to shoes or even get lessons.

BEST KARAOKE AMBIENCE

As any karaoke enthusiast knows, a good backup singer is hard to come by. But at Coaster's Bar at Boardwalk Bowl???which offers crooners and croonettes the opportunity to belt out their souls five nights a week???many cascading solos are punctuated by a swift and authoritative, "Sheila, your burger's ready at the bar" from the PA system. Tres postmodern. Plus, they have cheap drinks and both the Broadway and the bizarre Madonna dance-pop versions of "Don't Cry For Me, Argentina."
Articles mentioning Boardwalk Bowl
Sure, Labor Day is over and we are back to the daily grind. But, this is Santa Cruz, where no one really works, and it is freaking HOT outside. One hundred degree weather? Really? So, get indoors and see some amazing live shows. This week we have a mix of nationally touring and talented local acts…

From the best bands to the best bars, our staff's picks for the best in Santa Cruz County nightlife.

Our readers pick the best music and nightlife in Santa Cruz County.
Boardwalk Bowl Videos