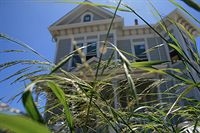 Rio Vista Suites
611 Third Street, Santa Cruz, CA 95060
1.800.780.5733
About Rio Vista Suites
Rio Vista Suites is a Hotel business in The Boardwalk
Property Location
With a stay at Rio Vista Suites in Santa Cruz, you'll be minutes from Cocoanut Grove and Santa Cruz Beach Boardwalk. This property is within close proximity of Main Beach and Santa Cruz Beach Boardwalk Amusement Park.
Rooms
Treat yourself to a stay in one of the 12 guestrooms, featuring fireplaces and plasma televisions. Complimentary wireless Internet access keeps you connected, while iPod docking stations help you enjoy your music in the comfort of your room. Conveniences include refrigerators and microwaves, and housekeeping is provided daily.
Rec, Spa, Premium Amenities
Pamper yourself with onsite massages or take in the view from a terrace.
Dining
A complimentary continental breakfast is served daily.
Business, Other Amenities
Featured amenities include complimentary high-speed (wired) Internet access, an elevator (lift), and coffee/tea in the lobby. Free self parking is available onsite.
Rio Vista Suites Amenities
Accessible bathroom
Accessible parking
Accessible path of travel
Braille or raised signage
Coffee/tea in lobby
Designated smoking areas
Elevator/lift
Free Wi-Fi
Free breakfast
Free self parking
Free wired high-speed Internet
Front desk (limited hours)
In-room accessibility
Roll-in shower
Terrace
Total number of rooms - 12
Rio Vista Suites Suite, 1 Queen Bed, River View, ADA
1 queen bed
Overlooking the water

Relax - Fireplace
Entertainment - Free WiFi and wired Internet access, plasma TV
Food & Drink - Refrigerator and microwave
Bathroom - Private bathroom with a jetted bathtub
Non-Smoking

Room Amenities
Bathrobes
Complimentary toiletries
Daily housekeeping
Fireplace
Free Wi-Fi
Hair dryer
Iron/ironing board
Microwave
Plasma TV
Private bathroom
Refrigerator
iPod docking station
Rio Vista Suites Standard Suite, 1 Queen Bed, River View, Gas Fireplace
1 queen bed
Relax - Fireplace
Entertainment - Free WiFi, plasma TV, and iPod dock
Food & Drink - Refrigerator and microwave
Bathroom - Private bathroom with bathrobes, free toiletries, and a hair dryer
Non-Smoking

Room Amenities
Bathrobes
Complimentary toiletries
Daily housekeeping
Fireplace
Free Wi-Fi
Hair dryer
Iron/ironing board
Microwave
Plasma TV
Private bathroom
Refrigerator
iPod docking station
Rio Vista Suites Suite, 1 Queen Bed, Jacuzzi Tub, Gas Fireplace
1 queen bed
Relax - Fireplace
Entertainment - Free WiFi, plasma TV, and iPod dock
Food & Drink - Refrigerator and microwave
Bathroom - Private bathroom with bathrobes, free toiletries, and a hair dryer
Non-Smoking

Room Amenities
Bathrobes
Complimentary toiletries
Daily housekeeping
Fireplace
Free Wi-Fi
Hair dryer
Iron/ironing board
Microwave
Plasma TV
Private bathroom
Refrigerator
iPod docking station
Rio Vista Suites Suite, 1 Queen Bed, River View, Jacuzzi Tub, Gas Fireplace
1 queen bed
Relax - Fireplace
Entertainment - Free WiFi, plasma TV, and iPod dock
Food & Drink - Refrigerator and microwave
Bathroom - Private bathroom with bathrobes, free toiletries, and a hair dryer
Non-Smoking

Room Amenities
Bathrobes
Complimentary toiletries
Daily housekeeping
Fireplace
Free Wi-Fi
Hair dryer
Iron/ironing board
Microwave
Plasma TV
Private bathroom
Refrigerator
iPod docking station
Rio Vista Suites Standard Suite, 1 Queen Bed, Gas Fireplace
1 queen bed
Relax - Fireplace
Entertainment - Free WiFi, plasma TV, and iPod dock
Food & Drink - Refrigerator and microwave
Bathroom - Private bathroom with bathrobes, free toiletries, and a hair dryer
Non-Smoking

Room Amenities
Bathrobes
Complimentary toiletries
Daily housekeeping
Fireplace
Free Wi-Fi
Hair dryer
Iron/ironing board
Microwave
Plasma TV
Private bathroom
Refrigerator
iPod docking station
Rio Vista Suites Suite, 1 Queen Bed with Balcony, Ocean View, Gas Fireplace
1 queen bed
Relax - Fireplace
Entertainment - Free WiFi, plasma TV, and iPod dock
Food & Drink - Refrigerator and microwave
Bathroom - Private bathroom with bathrobes, free toiletries, and a hair dryer
Non-Smoking

Room Amenities
Bathrobes
Complimentary toiletries
Daily housekeeping
Fireplace
Free Wi-Fi
Hair dryer
Iron/ironing board
Microwave
Plasma TV
Private bathroom
Refrigerator
iPod docking station
Rio Vista Suites Suite, 1 Queen Bed, Ocean View, Jacuzzi Tub, Gas Fireplace
1 queen bed
Relax - Fireplace
Entertainment - Free WiFi, plasma TV, and iPod dock
Food & Drink - Refrigerator and microwave
Bathroom - Private bathroom with bathrobes, free toiletries, and a hair dryer
Non-Smoking

Room Amenities
Bathrobes
Complimentary toiletries
Daily housekeeping
Fireplace
Free Wi-Fi
Hair dryer
Iron/ironing board
Microwave
Plasma TV
Private bathroom
Refrigerator
iPod docking station
Rio Vista Suites Junior Suite, 1 Queen Bed, River View, Gas Fireplace
1 queen bed
Relax - Fireplace
Entertainment - Free WiFi, plasma TV, and iPod dock
Food & Drink - Refrigerator and microwave
Bathroom - Private bathroom with bathrobes, free toiletries, and a hair dryer
Non-Smoking

Room Amenities
Bathrobes
Complimentary toiletries
Daily housekeeping
Fireplace
Free Wi-Fi
Hair dryer
Iron/ironing board
Microwave
Plasma TV
Private bathroom
Refrigerator
iPod docking station
Rio Vista Suites Junior Suite, 1 Queen Bed, River View, Fireplace
1 queen bed
Relax - Fireplace
Entertainment - Free WiFi, plasma TV, and iPod dock
Food & Drink - Refrigerator and microwave
Bathroom - Private bathroom with bathrobes, free toiletries, and a hair dryer
Non-Smoking

Room Amenities
Bathrobes
Complimentary toiletries
Daily housekeeping
Fireplace
Free Wi-Fi
Hair dryer
Iron/ironing board
Microwave
Plasma TV
Private bathroom
Refrigerator
iPod docking station
Rio Vista Suites Junior Suite, 1 Queen Bed, Fireplace
1 queen bed
Relax - Fireplace
Entertainment - Free WiFi, plasma TV, and iPod dock
Food & Drink - Refrigerator and microwave
Bathroom - Private bathroom with bathrobes, free toiletries, and a hair dryer
Non-Smoking

Room Amenities
Bathrobes
Complimentary toiletries
Daily housekeeping
Fireplace
Free Wi-Fi
Hair dryer
Iron/ironing board
Microwave
Plasma TV
Private bathroom
Refrigerator
iPod docking station
Rio Vista Suites Standard Junior Suite, 1 Queen Bed, Fireplace
1 queen bed
Relax - Fireplace
Entertainment - Free WiFi, plasma TV, and iPod dock
Food & Drink - Refrigerator and microwave
Bathroom - Private bathroom with bathrobes, free toiletries, and a hair dryer
Non-Smoking

Room Amenities
Bathrobes
Complimentary toiletries
Daily housekeeping
Fireplace
Free Wi-Fi
Hair dryer
Iron/ironing board
Microwave
Plasma TV
Private bathroom
Refrigerator
iPod docking station
Rio Vista Suites Standard Suite, 1 Queen Bed, River View, Fireplace
1 queen bed
Relax - Fireplace
Entertainment - Free WiFi, plasma TV, and iPod dock
Food & Drink - Refrigerator and microwave
Bathroom - Private bathroom with bathrobes, free toiletries, and a hair dryer
Non-Smoking

Room Amenities
Bathrobes
Complimentary toiletries
Daily housekeeping
Fireplace
Free Wi-Fi
Hair dryer
Iron/ironing board
Microwave
Plasma TV
Private bathroom
Refrigerator
iPod docking station