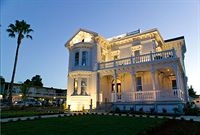 West Cliff Inn - A Four Sisters Inn
174 W Cliff Dr, Santa Cruz, CA 95060
(800) 979-0910
About West Cliff Inn - A Four Sisters Inn
The West Cliff Inn is a stunning luxury oceanside hotel from the Four Sisters Inns.
Articles mentioning West Cliff Inn - A Four Sisters Inn
Santa Cruz hotels near the beach offer the best of both worlds, with comfortable accommodations and easy access to the ocean scene. Visitors have options, whether its looking for adventure and action near oceanfront attractions or a quite and relaxing retreat away from big crowds.