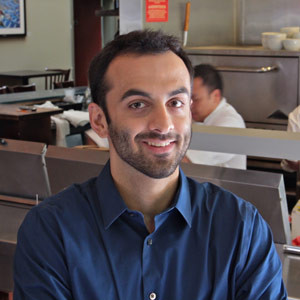 Ali Amin is general manager of Laili, which has brought the flavors of the 'Silk Road' to Santa Cruz.
Ever since opening in 2010, Laili has brought something unique to Santa Cruz's culinary scene. The heart of the restaurant is Afghani cuisine, but the restaurant's "Silk Road" concept references the famous historic trade route of the same name. Afghanistan is at the center of the Silk Road, as are all the neighboring countries from which Laili also draws influences. We talked with Ali Amin, son of owner Wafi Amin and general manager of Laili.
SCW: You are known for having a pretty luxurious ambience. Tell me about that.
ALI AMIN: It's specifically the patio. People call it the "secret garden." It's a beautiful, nice oasis. I think people come for the backdrop as much as they come for the food. We kind of tried to create something beautiful and special. Or at least my dad did. That was his intention. He dressed up the patio. It adds to the whole dining experience. We don't like to call ourselves "fine dining." We try and keep it casual, not scare people away. We want it to be an experience. It's more than having food.
What's the one thing you recommend a first timer try?
Pumpkin boranee. That's the easy answer that all the servers would tell you. It's the most distinct and flavorful thing we have. It's like butternut squash and you eat it with naan. It's kind of like our take on the traditional pumpkin boranee. We do a sweeter take on it compared to the traditional version. It's very unique.
Which dish is the farthest removed from traditional Afghani or Mediterranean cuisine?
That's a tough one. We do a lamb burger we sell during lunch right now. That's kind of out of convention. Still, lamb is one of the popular meats in the area. It's really tasty, but it's off course of the way our menu has gone. We kind of just threw it in there.
You have a lot of different flavors of flatbread. What's your favorite?
My personal favorite is the apricot chicken. It's sweet and it's savory. You have the apricot ginger chutney as a base. You have the dates. That's one of those kinds of Afghan-inspired things because flatbread with parmesan cheese isn't something you would see in Afghanistan, but the flavors: apricots, pomegranates—we put pomegranate seeds on it—mint leaves, those are kind of base Afghani flavors. It's a good example of what our menu is about.
What item do guests most commonly mispronounce?
Probably the aushak [pronounced "ow-shake"]. Everything else is pretty easy to pronounce.
What did you do when you found out you'd been written about in The New York Times?
I didn't really make a big deal out of it. It was kind of a Santa Cruz piece. So we were one of the stops of many throughout Santa Cruz, but it was still nice. It was only a couple months after we opened. It was like, we don't really know if this is going to catch on or not, this concept and idea here. Then seeing it in The New York Times was like, "Oh, all right. It might be something that works."
What did you do before Laili?
Me? I'm a nobody. My dad has done a lot of stuff. He's been doing this forever. Restaurateur, entrepreneur, businessman—he's done stuff in Afghanistan, he's done stuff here. I'm the fresh meat, learning from the ground up, basically. In training. I went to school for engineering. This restaurant is about my dad. I don't like to take credit for anything. I'm just helping move the boat along and doing what he's asking me to do. I love it here. There's something special here.
Laili is at 101 B. Cooper Street, Santa Cruz