Santa Cruz-based multi-instrumentalist and producer Krikor Andonian has been a part of several successful local projects, including now-dissolved audiafauna and the subsequent feral fauna. His ethereal and fluid themes combined with his own self-taught production style creates a very unique and rich musical signature. However, for the better part of the last decade, he has focused on promoting his projects and collaborations with numerous artists rather than the limelight, letting his many musical skills do the talking for him.
Recently, however, Andonian has made a new name for himself under the artist title KR3TURE, and has quickly earned hundreds of thousands of plays on SoundCloud and collaborated with several big name electronic artists, including The Human Experience. He organized and will play in a show with Random Rab at Don Quixote's on Friday, Dec. 1, accompanied by glitch artist Timonkey and vocalist Kat Factor. One of Santa Cruz's best kept musical secrets has decided to step out into the spotlight, so we decided to sit down and chat a bit about what he's been up to, and what he's got in store for us next.
How did you end up in Santa Cruz?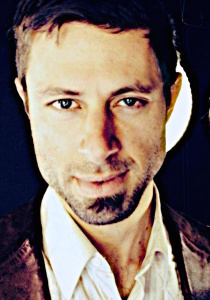 KR3TURE : I'm originally from LA. I was born and raised there. My background is Armenian and I grew up in an Armenian community and went to college down there as well. I ended up studying plants in college—ecology, to be more specific. When I started grad school in 2003 I went to UC Santa Cruz and attended their graduate program in ecology and evolution. That's why I always have a lot of plant-related titles and themes in the music. I've been here since then—13 years total, and I finished my Ph.D. in 2010. During grad school, we started the band audiafauna, and I kinda developed this little musical community of friends that became like a family that was really important to me. I wasn't ready to let go of that. I loved it so much here and felt so connected that I just decided to stay here and make it work, as opposed to finding a "good" job and then living in that place. I wanted to make Santa Cruz work, and now I'm actually a professor up at UCSC.
How did you get into music originally and transition into becoming a professional musician?
We had a piano in the house growing up, but interestingly enough I didn't really play it until I was in college. My family wasn't super musical. My mom played the piano but not regularly. My sister dabbled as well, but I can't say anyone was a musician. When I was 13 I asked for a guitar for my birthday, so about 24 years ago. I didn't really care for lessons, but over the years I taught myself to play the guitar and then taught myself to play the piano and the saxophone when I was in college. I had a knack for it and I just kept teaching myself. I've never really had a problem recreating sounds with instruments and just kind of tackling things I'm interested in even if I've never had any experience with it before. Some people have this barrier there and luckily I just don't, I guess!
Your current stage name is KR3TURE, but you began performing in Santa Cruz with your first band almost seven years ago. Can you talk a bit about what happened between then and now?
It all started in 2009 with audiafauna. That was my first real band, meaning we wrote our own songs and actually performed shows. I had been in a few minor projects before that. I met Kelly Koval in 2008, and we just started making music, and we both were like, This is amazing music. It just felt right. We played our first show as audiafauna at Burning Man in 2009 and it all kind of took off from there. We were getting really popular as a singer and a producer/songwriter, and it was funny because we had all this musical chemistry but before we met she had barely been in choir, and I had never produced my own song, so we kind of woke both of these skills up in each other. My friend at the time was a real producer and he did all the work of producing our first EP, but I crept over his shoulder the whole time, learning the ropes, if you will. During this time I was always around the engineering and computer processes but I was hesitant to really delve in. I saw myself as a musician and something about sitting in front of the computer for hours didn't feel right for me.
"What I always try and ask myself is, is your music good enough to be on your own playlist? some musicians can be too forgiving of their own stuff. If you put it on a playlist with your favorite songs, would it match up?" — Krikor Andonian aka KR3TURE
We stopped performing with audiafauna in 2012. The touring and intense lifestyle just isn't for everyone. Shortly after that, I met Heather Christie AKA Cheraki, a local singer who I had a lot of musical chemistry with, but now I had no band. I wanted to keep making music and although the music was a collaborative effort, I was the driving force behind wanting to keep the band as a business going—the tour bus, promotion, planning, I was really excited and wanted to keep doing that. So Heather and I decided to name it feral fauna (there's the plant theme again) and we wanted something a little more animal and ferocious. Things were in motion. Mostly due to necessity, I decided to do all the engineering and production for feral fauna. My old bandmate helped me out a bunch with tech support, but I pretty much taught myself the whole process of recording and producing an album. feral fauna has been around for about three years, and we haven't broken up as a band but we are both currently working on other projects, which is funny because right after we took a break, we had a song of ours called "Tincture" blow up online. It got millions of views and inspired a whole remix album off of one song. So it looks like we'll be doing more with that stuff soon. During the downtime, I decided to start releasing some stuff as KR3ATURE. It's my first time releasing and performing songs solely on my own which was big for me since I was used to hiding behind a vocalist haha. I see this as another phase in my evolution as an artist. Also, since I don't do my own vocals it's led me to work with a lot of really cool people and invite them on stage with me, making the shows a lot more diverse.
Speaking of collaborating with cool people, you just worked with David Block aka The Human Experience. 
In the world of electronic music, there's so many producers or hot genres out there at one time, whether it's dubstep, trip, or house. David Block AKA The Human Experience has been a constant figure. It's almost like his music doesn't care about genre, he is just focused on good music and melodies and I've always loved him. I actually met him by producing shows with him. I've been in town doing shows for years so whenever I know of someone or hear of an artist that wants to play I can usually put together a show. Back in 2013, I did a show with him at Moe's Alley and that's when our collaboration began. From there on out we would do shows with them in town and they would stay at our house, which ended up with us recording and messing with some stuff together. I showed him the song I had as KR3TURE that featured Kelly Koval that he really loved, so we joined forces on that and turned it into "A Little Deeper", which is now the most played track on my SoundCloud. The challenge is he's kinda of a big deal so he's all over the place, but we're working on releasing some more tracks together soon.
Being around as a serious artist for nearly ten years in the music industry is no small feat, and you've done some really cool stuff. Any advice to someone that wants to get on your level?
The challenge really I think is juggling your own creative authentic expression and excitement with marketable and lucrative music. Balancing popularity and marketability with your own authenticity and creativity. Historically this has been labeled as "selling out". I have found that I always had a tendency or some kind of sense for poppy and mainstream music that has a wide range of appeal, and I have to couple that with the fulfillment of my own artistry. You can't be like a kid in a candy store or playing on a playground with no direction. Time and energy are limiting. How can you make the greatest impact with your music in the time you have? You can like what you like, but it is it really going to help you in the long run. Are you planting musical seeds that will feed you in the future, or just look pretty? What I always try and ask myself, is your music good enough to be on your own playlist? Some musicians can be too forgiving of their own stuff. If you put it on a playlist with your favorite songs, would it match up? If it flows and it works, then you're stoked, and if it doesn't then you need to go back and make sure you're balancing your own creativity and having fun, with keeping an eye on what is actually good and marketable to the larger community. Of course I would love to "make it", but right now I'm stoked with where I'm at. I love playing shows and being up on stage, but I also love staying at home and drinking tea, so we'll see. I would love to be a successful touring musician and make a bunch of money, but for now I'm just gonna keep having fun and making music, keep that positive message and stay healthy.
---
KR3TURE plays with Random Rab at Don Quixote's in Felton on Friday, Dec. 2.