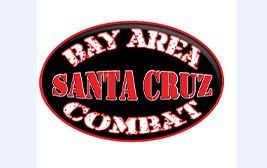 About Bay Area Combat - MMA
The sport of mixed martial arts is making a triumphant return to the Santa Cruz Civic Auditorium! Bay Area Combat, the premier combat sports promotion in northern California, presents Bay Area Combat Santa Cruz!

This event will be a hybrid event including No-Gi Jiu Jitsu, local musicians, and amatuer MMA. Doors open at 4pm and fights start at 5pm. The main event for the MMA portion of the show will be Santa Cruz local Raul Quintero of Jiu Jitsu Therapy vs. Isaiah Chatman of Team Salguera in Antioch. This fight will be for the vacant Bay Area Combat Lightweight Title.

The rest of the card is stacked with local fighters including Drake Smith, John-Pierre Betaudier, AJ Versaw, Cesar Moreno, Mike Sandoval, Justin McGinnis, Josue Diaz, Travis Lindahl, Brian Molinaro, Anibal Gordo, Robert Beneshan, Jacob Olson, Axel Jurgens, and Bob Diminyatz. We are also bringing in tons of other California and Nevada talent which include Alberto Juarez, Ivan Batinich, Peter Ishiguro, Mike Howard, Juhma Muhammad, Sal Lara, Jordon Lou, Steve Genera, Iann Mcdonald, Alec Acuavera, Shawn Cox, and Colin Brohawn. Ivan Batinich and Peter Ishiguro both have previously competed in Bellator MMA!

Musical performances by Krooked Fam, Surfsyrup, Young Muliano, AntDogg Da Beast, Footz, and the Gouda boyz.

Local Companies sponsoring the event include SunCoast Awning, The Bay Bar and Grill, Adriana P. Mesa Physical Therapy, Santa Cruz County Life, Never Scared Lifestyle, Local 12, Jiu Jitsu Therapy, and Saidi Farhat Construction.
Videos