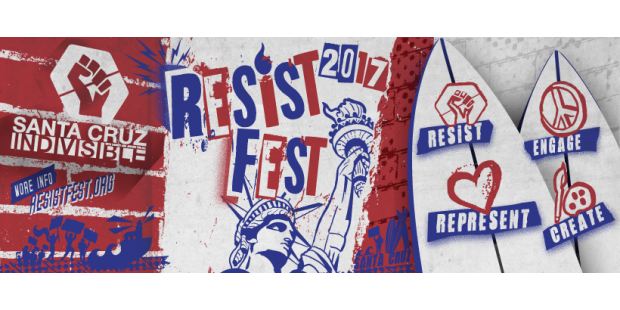 About ResistFest
Join Santa Cruz Indivisible (SCI) on Saturday, September 23, for ResistFest, a community event that uses art to foster connection between the public, artists, member activists, and SCI Issue Teams, for what we call Citizenship 2.0. ResistFest strives to bring people together to create art, engage in conversation, and empower people to take political action. The event will feature artwork from several local art collectives as well as over 40 local political artists and musicians.
ResistFest will take place from 2pm-6pm on Cooper Street in downtown Santa Cruz at the Museum of Art and History (MAH) and in Abbot Square adjacent to the museum. There will be food, music, and arts-related events for both children and adults. There is no charge to attend, but donations will be accepted.
We need additional support to make this event a success. Here's how you can help visit
https://www.classy.org/checkout/donation?eid=144784 to:
To support an artist or musician, and other expenses related to art supplies, city fees, equipment and space rental, and more.
Volunteer to help put on the event:
https://docs.google.com/forms/d/e/1FAIpQLSeTRDk9nFbf1QyhamL-KKRK6tS9hdnXNpawUlYIHI6Sx047JQ/viewform
ResistFest Event Volunteer Form
Donate art supplies to help the art groups involved
Art Supplies needed: 
11"x14" Bristol paper pads. 100-sheet 300 series of Strathmore sketch pads would be ideal.
Large tubes or cans of water-soluble block printing ink. 
Water-based silk screening ink, any amount, any color.
Heavy weight paper, foamcore, matboard, or cardboard for signs.
News print for test-prints/cleaning.
Rags
T-shirts for printing
Art supply donations may be made via Palace Arts (831-427-1550) or Lenz Arts (831-423-1935), and then by notifying 
[email protected]
 that the donation has been completed.