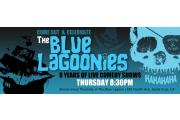 Edit
Blue Lagoon
923 Pacific Ave
, Santa Cruz
, CA
95060
|
Directions
Hours:
Mon-Sun:
4:00 pm - 2:00 am
/
About Blue Lagoon
We are a daytime bar, and a nighttime Dance Club and Live Music Venue.
Happy Hour: 4-9pm $4 Well Drinks and Pints of Anchor Steam

NIGHTLY SCHEDULE:
Tuesday - 90's Night
Wednesday - Live Bands
Thursday - 80's Night/Comedy Night
Friday - Live Bands & DJ's
Saturday - Video DJ Dancing
Sunday - Goth and Industrial Music
Monday - Live Bands

----------

Goth rock, hip hop, '80s music and an array of sounds from local bands draw a different crowd to the Blue's two-room-wide dance floor nearly every night. Of course the dirt-cheap drinks???$1 Pabst on Wednesdays and $1 well drinks on Tuesdays???will get just about anyone out to this (not really) gay bar. The atmosphere screams for patrons of all sexual inclinations to up and shake their moneymaker.

The Blue Lagoon is the longest local owned and operated Nightclub in Santa Cruz. We have entertainment 7 nights a week including DJ's and touring bands from all over the world. Every Thursday at 8:30 pm is the town's longest running weekly comedy show with MC DNA. With the best drinks and drink specials you can't go wrong!
Upcoming Events
Sun
7/12
Repeats every Sunday until 4/10