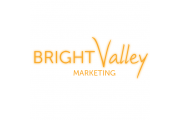 Edit
Bright Valley Marketing
101 Cooper Street
, Santa Cruz
, CA
95060
|
Directions
Hours:
Mon-Fri:
9:00 am - 5:00 pm
/
About Bright Valley Marketing
Grow Your Business through SEO and Online Marketing Services from Bright Valley Marketing
Want to boost your sales by driving a steady stream of customers to your website? Bright Valley Marketing provides effective internet marketing solutions to companies in Santa Cruz, CA, the Bay Area, and nationwide. Our services are designed to ensure your success in this ever-changing digital day and age.

You're passionate about what your company has to offer the world and want to reach as many people as possible. By leveraging the immense power of online marketing, we help your company stand out on the Internet – so more people discover your website, buy your products or services and become your solid client base. Our services include:

Search Engine Optimization (SEO)
Reach more customers by ranking higher in search engines.

Social Media Marketing
Build your brand by interacting with your customers.

Content Marketing
Build trust and loyalty with meaningful content

Get in touch with us to discover what we can do for your business.