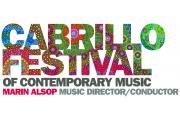 Edit
Cabrillo Festival of Contemporary Music
147 S. River Street Suite 232
, Santa Cruz
, CA
95060
|
Directions
Hours:
Mon-Fri:
9:00 am - 5:00 pm
/
About Cabrillo Festival of Contemporary Music
Music Director/Conductor Marin Alsop leads the award-winning Cabrillo Festival Orchestra in contemporary works for orchestra for two weeks each August, with performances and open rehearsals held at the Santa Cruz Civic Auditorium.
The Cabrillo Festival of Contemporary Music, even at a seasoned 52 years old itself, is all about the new???the here and now of contemporary works for orchestra. During the first two weeks of August each year, audiences are joined by both preeminent and emerging composers, an orchestra of dedicated professional musicians led by famed conductor Marin Alsop, and renowned guest artists from across the globe to give voice to works which are rarely more than a year or two old, and sometimes still wet on the page. The opportunity for composers to work with Maestra Alsop and musicians skilled and enthusiastic about bringing these new works to life, in the beautiful coastal, college-town of Santa Cruz, California, makes this an artistic paradise.

In a recent article for ???Marin on Music??? on NPR, Music Director Marin Alsop described the Festival this way, ???Cabrillo is an artistic oasis for me and, happily, for everyone that attends. We are dedicated solely to new music and to offering an in-depth, accessible, inspired artistic experience for every single person that performs, attends, passes by or breathes the nearby air!??? With a professional training workshop for early career conductors and composers, open rehearsals almost daily, educational programming for all ages, a ???Meet the Composers??? forum, the Church Street Fair showcasing Santa Cruz County performers and artists, and much more, the Cabrillo Festival has dozens of opportunities for meaningful engagement. If you can resist that, then explore no further. Otherwise, dig deeper into our website. Look. Listen. And then join us at the Festival this summer!
Cabrillo Festival of Contemporary Music Videos