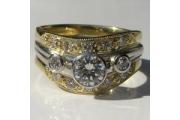 Edit
EVB Design Fine Jewelry Art
Hours:
Mon-Sun:
open 24 hours
/
About EVB Design Fine Jewelry Art
EVB Design fine jewelry art is a place where fine art, jewelry, gold, platinum, diamond and gemstones blend into an exclusive, contemporary & original custom handmade jewelry design art piece created by fine jewelry art designer, Elaine Means.
Elaine's custom fine jewelry art designs are handmade in platinum 900, 18k gold or 14k gold. With more than twenty five years of expert fine custom gold and platinum jewelry artist experience, Elaine will work with you to sculpt an unique handcrafted custom jewelry design art piece of your dreams. You may also choose from our online designer jewelry studio showroom or inquire about the many other fine custom jewelry art designs not shown. Either way, words cannot express the joy of owning the best in exclusive fine quality, contemporary and unique fine art designer jewelry, knowing that it reflects the exclusive being who wears it proudly.