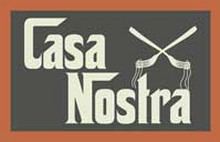 Edit
Ristorante Casa Nostra
About Ristorante Casa Nostra
Ristorante Casa Nostra is located in Ben Lomond, CA.
It has been described as "ristorante that fits heart, soul, and food into its time and place."

Offering Paninis, pastas, and salads for lunch, and premium pastas with complimentary wines for dinner, you are sure to enjoy what Ristorante Casa Nostra has to offer.