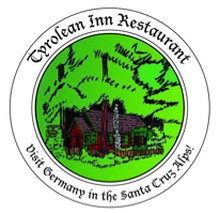 Edit
Tyrolean Inn Restaurant
Hours:
Mon:
open 24 hours
/
Mon, Tue-Thu:
5:00 pm - 9:00 pm
/
Fri, Sat:
4:00 pm - 10:00 pm
/
Sun:
12:00 pm - 9:00 pm
/
About Tyrolean Inn Restaurant
The Tyrolean Inn Restaurant has been serving authentic Bavarian and German cuisine since 1970.
If you've never tried German food before, you may be surprised to find it's a sophisticated continental cuisine.

We use a variety of meats, poultry, sausages, and fish. You'll also enjoy a range of fresh and pickled vegetables, mouth-watering sauces, and tempting deserts. Game dishes are offered on Fridays.?? You can wash it all down after with our authentic German Beer selection as well.

We are proud to present tempting daily specials to complement our traditional dinner menu. All menu items available to go.