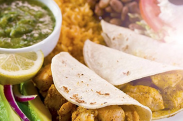 Edit
Manuel's Mexican Restaurant
Hours:
Mon-Sat:
11:30 am - 12:00 am
/
Sun:
11:30 am - 11:00 pm
/
Articles mentioning Manuel's Mexican Restaurant
There was a time—baby boomers might remember it—when the introduction of a Mexican TV dinner revolutionized North American food choices. Well, maybe not revolutionized, but certainly expanded. And it wasn't long after, in 1962, that an L.A. entrepreneur named Glen Bell started up a fast food idea called Taco Bell. Neutered of full salsa sexuality,…

This is where to find not only the best dishes in Santa Cruz County, but the best restaurants for romance, great views and more.
Manuel's Mexican Restaurant Videos