There was a time—baby boomers might remember it—when the introduction of a Mexican TV dinner revolutionized North American food choices. Well, maybe not revolutionized, but certainly expanded. And it wasn't long after, in 1962, that an L.A. entrepreneur named Glen Bell started up a fast food idea called Taco Bell. Neutered of full salsa sexuality, it nonetheless gave lots of folks a quick hit of crisp tortilla, ground beef topped with orange cheese and a topping of salsa. Today, Taco Bell annually serves more than 2 billion customers.
In California—a state that was once part of Mexico—foods involving tortillas, pink beans, pico de gallo, and a wide range of salsas are fundamental to life itself. Taquerias offering inexpensive, insanely delicious fare exist on every corner—Tacos Moreno, Taqueria Vallarta, Jalapeños, La Cabaña, and on and on in my city alone. When I first came to town from San Francisco 30 years ago, I seemed to spend the better part of every week at Las Palmas Taco Bar, where shaved lettuce took on new excitement, and at Manuel's, home of the ultimate gooey, oozing, voluptuous chile relleno. Jose Espinoza came to town and created El Palomar in the heart of downtown. After tasting his family's dreamy hominy-laced pozole, and those feather-light puffed sopes, our tastebuds could never (well, almost never) go back to Taco Bell.
The mainstreaming of Mexican food has worked out deliciously on many fronts. Thanks in part to culinary evangelist Rick Bayless, the astonishing range of Mexican styles and flavor ideas is available in frozen food sections, and in newly chic fast food shops like Chili's Grill and Chipotle.
Increasingly Mexican dishes share menus with Korean kimchi and Japanese ramen, suggesting a fusion cuisine that is not so much a revival as a re-awakening. Even the ultra oldschool Shadowbrook has a soba noodle medley, and a Baja-Style prawn cocktail, plus any number of wasabi and soy dipping sauces on its upscale menus.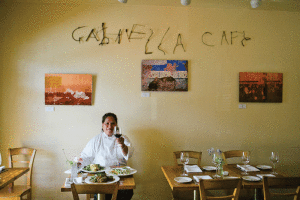 At Discretion Brewing, chef Santos Majano adds snapper tacos as well as pork belly ramen and chili fried rice with Shanghai baby bok choy to his global menu. Lúpulo gastropub specializes in contemporary tapas that include empanadas, Spanish omelets, shredded pork tacos, and pressed sandwiches loaded with queso oaxaca and mango-jalapeño chutney. The Mexican accent is not a theme so much as an inspiration. An evolution of mixed culinary strands is taking place.
The popular pop-ups next to Assembly, and those at the Food Lounge, go deep into what used to be called "ethnic cuisine," from pho and ramen to exotic wraps with chutneys and salsas. Santa Cruz has workshops such as Melissa's Mexican Made Easy, and catering groups like My Mom's Mole, showcasing the spicy subtleties of the cuisine.
And at our top bakery/cafe hybrids—Gayle's, Buttery, Kelly's—Mexican classics find a following. Buttery turns out a stellar pozole, Gayle's does a chicken tortilla soup that would be at home in Zihua, and Kelly's has long featured fish tacos as one of its most popular entrees.
Part of the insurgence of Mexican flavors, elements, and recipe styles into mainstream formats has to do with the availability of ingredients. There simply were no avocados on the East Coast when I was a kid. And cilantro was rare, unless you grew it yourself. Again, partly driven by Bayless and his fellow new American chefs, authentic and fresh Mexican culinary ingredients are abundantly available. Poblanos, tomatillos, serranos, nopales.
Two local restaurants reveal the bandwidth of Mexican influences. At Ulterior (above Motiv) Chef Zachary Mazi is busy planning a trip to Mexico City to study authentic and contemporary Mexican cookery. Mazi grew up in Oregon and the West Coast "inundated with Mexican food and culture." His love affair with mole began not through his own cultural background, but when he was asked to cater a Oaxacan-themed wedding six years ago. "I was amazed at the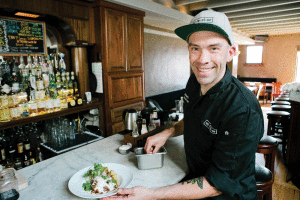 depth and richness of the variety of cuisines throughout Mexico," he says. "Growing up, I feel that Tex/Cali Mex cuisine was all I had seen." In 10 months of Pop-Up at the Food Lounge, and LionFish Supper Club (which morphed into Ulterior Restaurant & Bar), his menu explored the foods of the world. "Each week, we would fully shift our menu and focus on one specific region of the world, bringing in dishes that exist in relative obscurity, both for our customers' enjoyment, and also for our own education." His favorites were cuisines from Mexico, Central and South American, and Southeast Asia.
"Last year, in our third month at Ulterior, we decided to have a Cinco de Mayo menu, which lasted for six weeks. One hundred percent Mexican specialties with some very fun and interesting dishes.
Mazi has been exploring Mole Poblano lately. "There are no recipes," he believes. "Only techniques and ingredients. The mole I make now is my intuitive approach to a recipe that I have edited drastically, and it changes every time I make it."
Inspired by chef Enrique Olvera at the highly rated Pujol restaurant, Mazi will be traveling to Mexico City for dining research—"and perhaps even take a cooking class or two while in Mexico."
At Gabriella Cafe, Chef Gema Cruz has worked her way up through Paul Cocking's kitchen over the past 20 years. Thanks to her own roots, cooking with her grandmother in Oaxaca, Cruz now peppers Gabriella's regular menu with dishes of southern Mexico. On Tuesdays, regulars come for Cruz's luscious chicken chiles rellenos and her complex chicken mole, and pipian sauces, as well as Oaxacan quesadillas, packed with queso Oaxaca, epazote, avocado, cabbage and crème fraîche. And how does Gabriella's clientele respond?
"People really like these dishes, they come in and ask a lot of questions, they talk about the food," says Cocking, who gets a kick out of seeing tacos popping up in Japanese and Korean restaurants in the Bay Area. "Yes, this really is California Cuisine. We are still mostly Italian, but a little French has always slipped in, and more Mexican now. Everybody is doing tacos now. Even high-end Asian places."
Cruz, who cooked her way up the ranks, is equally expert turning out Gabriella's non-Mexican dishes. "She's doing a great job," says Cocking. "She is that happy combination of a good cook and a good kitchen manager."
There are still far more taquerias than upscale Mexican restaurants in the Bay Area, perhaps because Mexican food has for some time now been perceived as inexpensive, using ingredients long on beans, rice, and tortillas. As more young chefs take the reins at top restaurants, the evolving character of Mexican cookery can only grow more sophisticated.