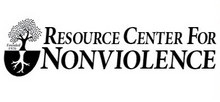 Edit
Resource Center For Nonviolence
Hours:
Mon-Sun:
12:00 pm - 4:00 pm
/
About Resource Center For Nonviolence
The Resource Center for Nonviolence promotes the practice of nonviolence in personal and social change to create a more just, peaceful and sustainable world.
www.rcnv.org
(831) 423 ??? 1626
612 Ocean St. Santa Cruz, CA
Hours: M-Th Noon - 4p.m.
Articles mentioning Resource Center For Nonviolence
By the end of the week, the collective mind of Good Times is literally swirling with dates, times and locations. There is simply so many events happening in Santa Cruz County! Where to being? Oh yes, Friday. Here is a list of the top events happening in a neighborhood near you. FRIDAY, AUGUST 28 'Iran…

The global movement dedicated to feeding the hungry with free, mostly vegan meals has been operating in over 1,000 communities since its founding in Massachusetts in 1980 by Keith McHenry. McHenry will be on hand at the Resource Center for Non-Violence on Thursday evening to give a talk and share his tofu spread.
Resource Center For Nonviolence Videos