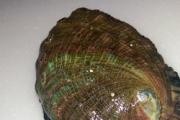 Edit
American Abalone Farms
245 Davenport Landing Rd
, Davenport
, CA
95017
|
Directions
Hours:
Sat:
10:00 am - 2:00 pm
/
About American Abalone Farms
American Abalone spawns and grows California Red Abalone within the pristine waters of the Monterey Bay National Marine Sanctuary.
The abalone farm at Davenport has been producing the highest quality red abalone and shipping them live around the world for over 20 years. Amercian Abalone sells live abalone and abalone steaks, tenderized and ready for preparation. Abalone are members of a large class (Gastropoda) of mollusks having one-piece shells. They belong to the family Haliotidae and the genus Haliotis, which means sea ear, referring to the flattened shape of the shell.