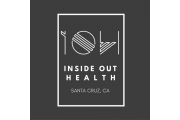 Edit
Inside Out Health
501 Soquel Ave Suite G
, Santa Cruz
, CA
95062
|
Directions
Hours:
Mon, Thu:
12:00 pm - 6:00 pm
/
Tue, Fri:
8:00 am - 2:00 pm
/
Wed:
7:00 am - 6:00 pm
/
About Inside Out Health
Chiropractic Neurologist who offers alternative solutions for chronic pain and chronic illness in a safe, gentle, and natural way.
Inside Out Health is a chiropractic office that focuses on treating the body using the body's own self-healing abilities. We use functional medicine, functional neurology, and state of the art upper cervical techniques to get people feeling better quicker and stay that way. Our office focuses on helping people with migraines, depression, anxiety, chronic pain, and other chronic disorders. Dr. Nick Hyde, the lead clinician at Inside Out Health, studies under and is mentored by 1 of the 12 lead researchers for Preventative Health Care at Harvard Medical School and the predominant leader in natural brain balancing and rehabilitation. Are you ready to be freed from your chronic issues?